Estonia's leading private medical clinic group Confido has faced rapid growth in recent years, with its number of locations and staff multiplying quickly. As a fast-growing company, Confido needed a reliable medical software development partner and partnered up with Helmes, marking the start of a fruitful collaboration.
One of the main challenges for Confido was digitalizing its daily back-office processes.
The company saw the solution in a custom-developed back-office application tailored to their needs and flexible enough to accommodate changing business needs.
Since 2021, Confido staff has used a custom-developed medical software Medigate in their daily work. Medigate digitalizes processes such as
booking appointments,
compiling schedules for staff and rooms,
managing client contracts,
issuing notifications and invoices.
Although the system is used by back-office staff, it also benefits patients and medical personnel. Medigate is integrated with a customer-facing portal where customers can conveniently book appointments online without calling the clinic. Health-care specialists working in clinics benefit from convenient access to their daily appointments schedule and have better control over their schedules thanks due to the flexibility of the booking module.
Medigate has facilitated the company's rapid growth thanks to its scalability and flexibility.
The system considerably reduces manual work involved in daily back-office tasks and cuts the risk of human error. Thanks to the built-in checks and automation, it also makes it easier to onboard new staff, who need less specialized knowledge to perform their tasks.
Read the case study for an in-depth overview of Medigate and its benefits for staff and customers.
Meet the customer
Confido is a leading private medical clinic group in Estonia. Founded by a group of doctors in 2013, the company has expanded rapidly in recent years; the companies that comprise the Confido group are now composed of more than 200 health-care providers.
Its team of general practitioners, specialized doctors and other health-care experts provides high-quality services across eight locations, which include large medical centers and smaller walk-in clinics. The services cover a wide range of consultations, tests and procedures, therapies, wellness and aesthetic procedures, in line with the company's holistic view of health.
The challenge
One of the main challenges for Confido during its rapid expansion was digitalizing daily back-office processes. The company was using a universal web-based medical software solution used by Estonian health-care institutions, but it did not provide the flexibility or level of automation they needed. As a result, the staff members had to perform many tasks manually, which meant a lot of their work was time-consuming and prone to error.
As the company was adding new premises and staff members at a rapid pace, the old processes were no longer sustainable, and an improved system was urgently needed.
The solution
Confido saw the solution in a back-office application tailored to their specific needs. The first version of Medigate was launched in February 2021 and has been continually developed further since then.
Today, Medigate is a flexible one-stop medical software solution for the back-office tasks of a health-care institution with many locations, services, and clients. The system helps the back office staff perform everyday tasks more quickly while minimizing the possibility of human error.
These processes include:
booking appointments,
compiling schedules for staff and rooms,
managing client contracts,
issuing notifications and invoices.
The system connects to a customer-facing module, allowing the patients to conveniently book appointments online.
Developed in Java and React and running on AWS, the web-based back-office application is accessible from any device with a VPN connection. The system is integrated with various information systems, including the national e-booking system, the national health information system, a clinical data platform, a video consultation tool, ERP and BI software, and a payment solutions provider.
Main technologies
Java
React Native
AWS
How does Medigate work?
The system has five main user groups with varying levels of rights and access to different modules.
Customer service agents can access information relating to customers, appointments, and payments. They can easily book new appointments for patients as requested over the phone or in person and send out notifications and invoices.
Resource planners use the system to compile and manage schedules for the clinics' staff and locations, for which there was no digital solution for that purpose before. The staff did it manually in Excel, which was considerably more time-consuming and prone to errors.
Accountants can upload information about payments received, and the system automatically marks the corresponding invoices as paid. In addition, they can export various reports and issue consolidated invoices to business customers at the end of the month.
Business account managers can manage business customer contracts with different conditions. For example, they can define specific services or set discounts or spending caps for a particular partner account so that the company's employees or customers can use Confido's services at preferred terms.
Superusers can enter and modify data in the system. They can enter new locations, services, and parameters, without having to ask and wait for their development partner to implement such changes.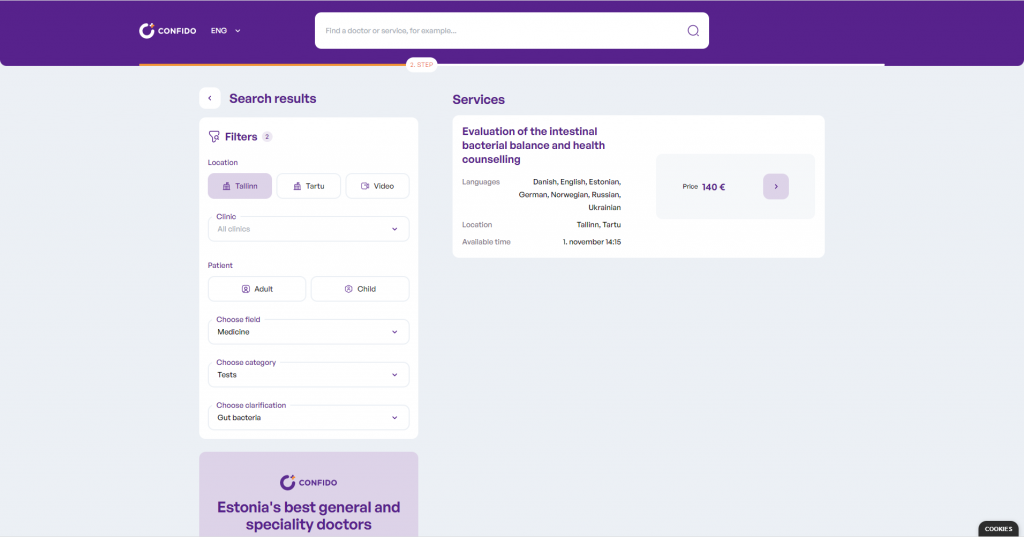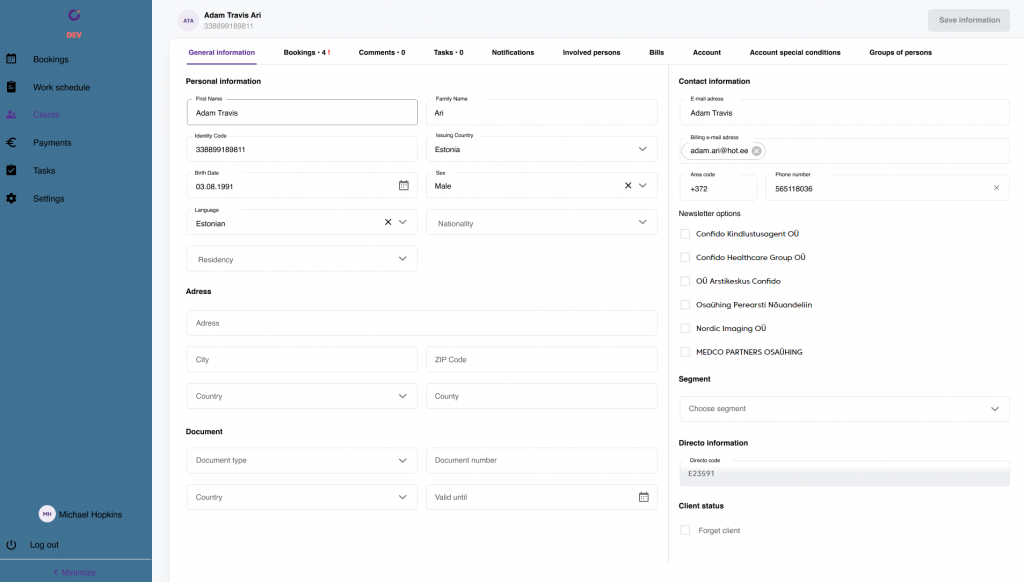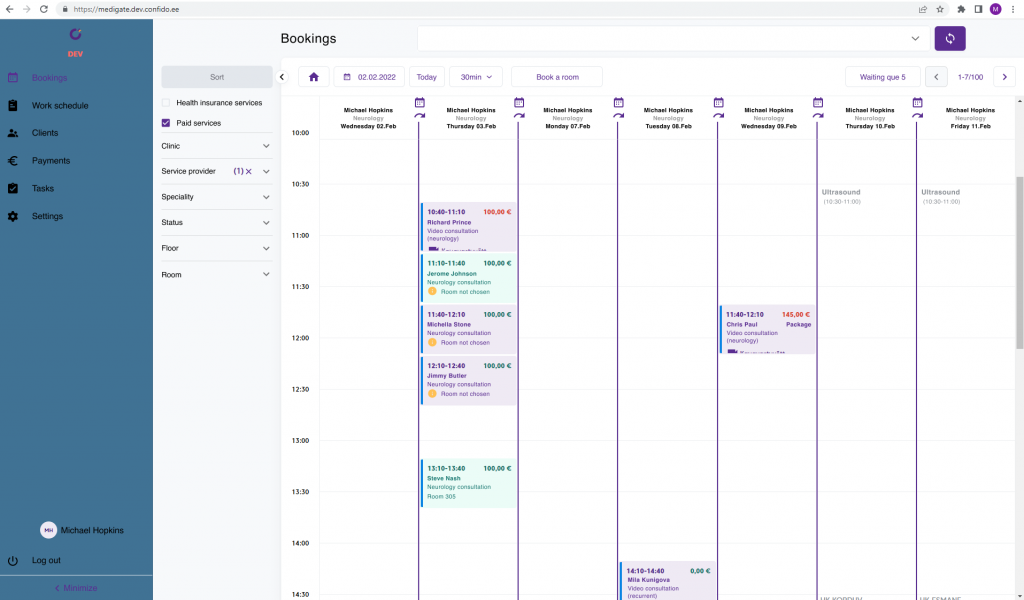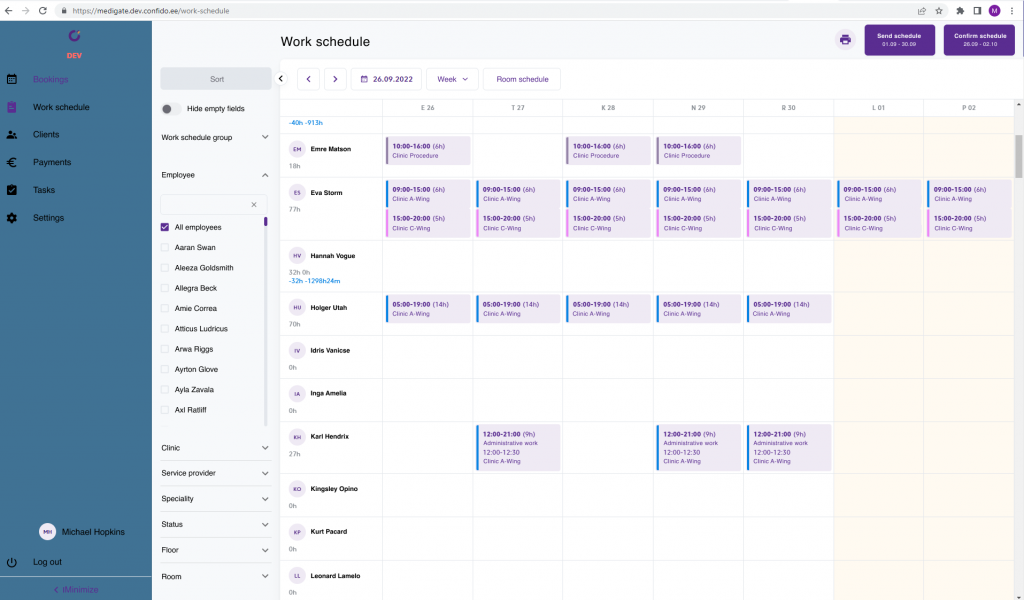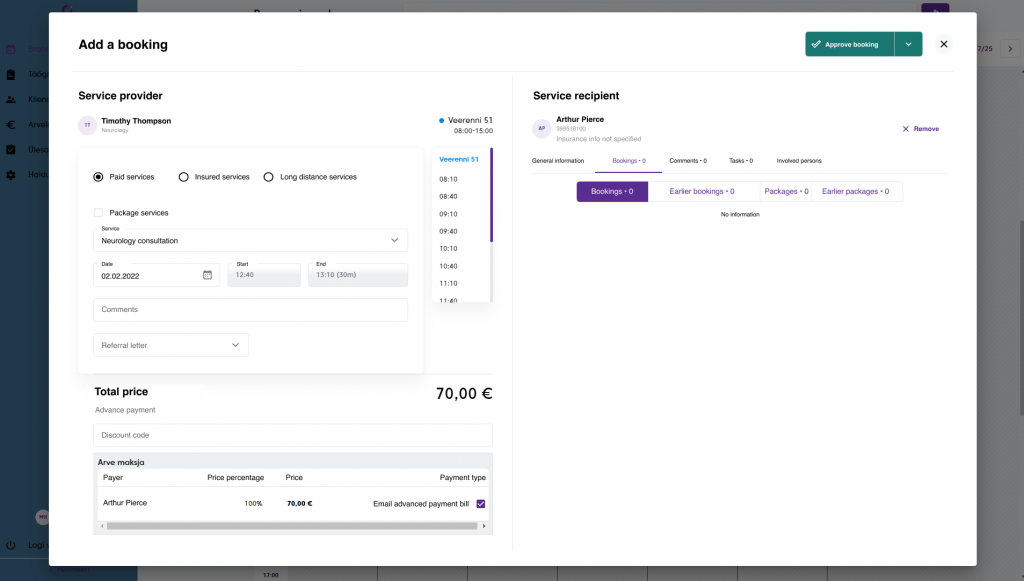 The benefits
Automated customer notifications
The system automatically sends a notification to the customer's email whenever a new appointment is made (either by the agent or the customer online).
The email includes details about the service, location, directions, and a rebooking link in case the customer needs to modify or cancel the appointment. When a prepayment is required, the email includes a payment link allowing the customer to conveniently make the transaction online.
There is also a possibility to add a questionnaire that is needed to be filled in before the appointment and in case of video consultation, a link will be added as well.
Eliminating human error
Thanks to Medigate's automation, it is impossible to book a room or service not available at a given time or make an accidental mistake in an invoice or booking confirmation notification, as these are automatically compiled by the system and not manually by the agent.
Agents no longer have to navigate various sources of information as everything is stored in one place.
Faster accounting
Customer service agents and accountants no longer have to check from the bank account if a specific invoice has been paid but can see it in Medigate.
Issuing invoices, consolidated invoices to business customers, and reports have been automated.
Flexible business account management
Companies who want to cover the costs of services for their employees can set the terms. It is also easy to run campaigns; for example, a travel insurance provider can apply a discount for customers who require a COVID test. The system ensures that the customer always pays the right price.
Convenient online booking for patients
Thanks to the customer-facing module, patients can now make bookings online, which was not possible beforehand. At the same time, the company can configure and control what the client can book from outside and reserve some time slots or services only for internal bookings.
More control for medical specialists
Doctors and other specialists have more control over their schedules. For example, the system can be configured so that a specific time slot is reserved for providing only a specific service – or for bookings by doctors themselves. The medical personnel can also conveniently access their appointments on their mobile devices, a feature specifically requested by them.
Upgraded business analytics
As a result of the aggregation of data and integration with Power BI, Medigate also allows for more detailed reporting and business analytics.
Let's get to work
If you are looking for medical software, we'd be happy to show Medigate's possibilities and introduce the different hospital software solutions we have developed. 
Get in touch