Helmes has helped more than 500 companies in different business domains undergo digital transformation. After witnessing their challenges, we have developed a streamlined methodology to overcome the most common obstacles, making the digitalization process faster and more efficient than clients often expect.
Challenges of digitalization
Public research shows that about 90 percent of manufacturing companies are still undergoing digital transformation. Surprisingly, the main barriers to digitalization are the same in the public and private sectors and across the specific industries the companies represent.
The three major barriers Helmes has encountered when working with our clients include:
Employee pushback to adopting new digital solutions and embracing digital change.
A lack of expertise in technical aspects and in leading digital innovation inside the company.
An unwillingness to change the organizational structure to align it with digital business processes.
Yet, it's hard to ignore the reality – there is no alternative to digital transformation for businesses, which is bound to happen anyway. By adopting the right methods, companies can remove barriers and undergo digital transformation more effortlessly than expected.
A digitalization success story: Airbus Commercial
In 2021, Helmes became a digitalization supplier for Airbus Commercial, the aircraft-manufacturing subsidiary of the global aerospace giant. Airbus has stated that its key drivers for becoming digital are:
gaining competitive advantage,
improving productivity, and, most importantly,
achieving business goals more efficiently. 
The first process we started to digitize for Airbus Commercial was implementing new technical standards into the aircraft manufacturing process. As a first step, we identified the main improvement points concerning digitalization inside the organization. To a large extent, these overlapped with the barriers described above, but we also saw that part of the problem was caused by several IT solutions being used in parallel to handle the same business processes without any of them taking full responsibility.
With Airbus adopting our methodology, we delivered a brand-new digital solution in six months. Once up and running, it received a very high user satisfaction score (9/10).
Our model for digital transformation
Our approach to digital transformation, which we tailored for Airbus Commercial, relies on three main pillars.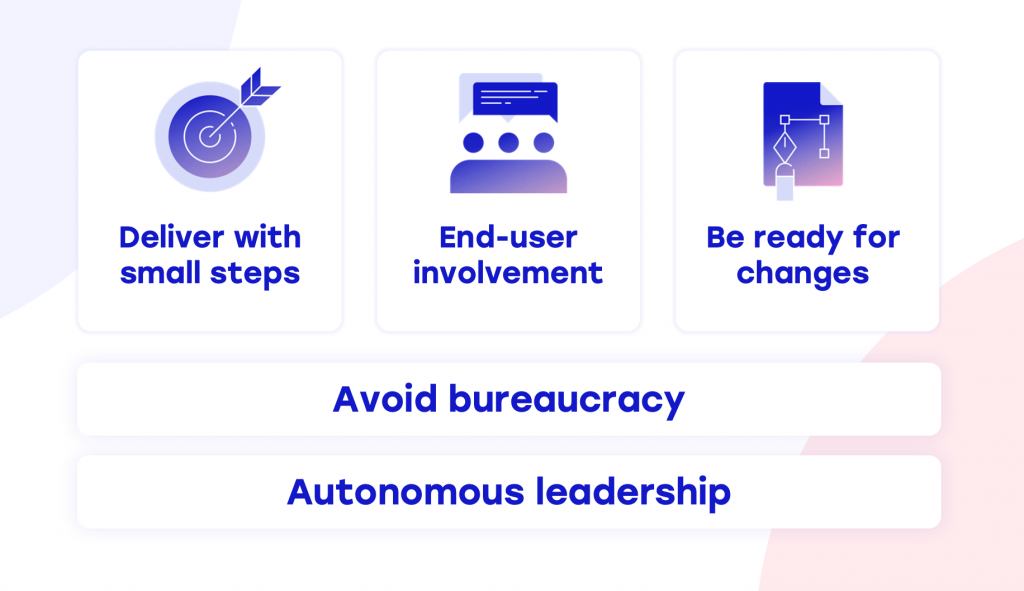 First, when we start digitizing a business process, we split it into smaller pieces so that every piece adds actual value to the full chain.
Next, for every delivery, we involve end-users from Day 1 to keep the feedback loop as short as possible.
Finally, we are ready to adopt changes received through the feedback loop into delivery. By doing so, we ensure that the end customers will get the exact result they expect.
In all our digitalization projects, we also follow two overarching principles: keeping bureaucracy to a minimum while simultaneously striving for maximum team autonomy.
Key takeaways for successful digital transformation
Summing up our experience in digital innovation projects, here are the three main takeaways:
Proceed in small steps when planning a digital transformation.
For each step, define clear KPIs that help you to measure the market fit.
Finally, be prepared for changes. With everything around us in constant change, our success depends on the ability to quickly adapt and incorporate those changes into our processes, organizations, and delivery of projects.
The past three decades have given Helmes tremendous experience in digitizing processes, including digitizing about 30 percent of Estonian public services, which we can transfer to other sectors. All our services comply with ISO standards which means that we provide the highest quality services for our customers.
No matter the business domain, the barriers to digital transformation tend to be similar, meaning you can adopt the same methodology to eliminate them. By taking the approach described above, you will find that digital transformation can be much easier than you may have realized or experienced until now.
Get in touch