Even though humans decided to quit their nomadic lifestyle and settle down, they never lost the urge to travel and search for better places to live. Nowadays it is easier than ever to follow a nomadic lifestyle. We see a lot of bloggers, travelers or even professionals who exchange their permanent jobs for remote works or for shorter term jobs which allow them to see the world, experience new cultures and at the same time work in different parts of the world.
My wife and I both studied abroad for a while and returned to Azerbaijan to continue our career. After a while, we decided that it is time for a change and we need to move to a different country. We both had a senior level job, bought a house, a car, paid our mortgage and decided that now we need to step out of our comfort zone, as everything got smooth and familiar.
For several reasons, our goal was to move to Europe. Among those were European work culture and standards, how companies value their employees, rising need for qualified workers, rich cultural history and proximity to our home country.
When choosing a country within Europe we had some criteria. A country should:
Have a developed IT market and interesting IT projects;
Offer competitive salaries that are at least more than we were making at home;
Provide opportunities for English speaking job seekers without the need to know the local language, as moving to a new place would require my wife to quit her job and search for a new one in this new place;
Have easy or at least "easier" visa and work/residence permit rules and require less paperwork;
In general, have a favorable environment for expats.
After our decision, I started actively applying for job openings in several EU countries. Even though there is a real need for qualified workers in EU, some countries had a very long selection process, some offered very low salaries, and some did not provide visa support or even with support the visa and permit process was frustratingly long and difficult. For example, for some countries, you had to wait for 2 months to get your visa before you can move and then you must apply and wait equal time for residence permit there. Also, your family needs to apply for a visa after you move.
Then I discovered an Estonian job seeking platform Jobbatical. This platform has job ads for many EU countries and many openings for Estonia. After some research, we decided that Estonia meets most of our requirements. Estonia is open to expats, has many job openings in IT sector due to its rising IT market and support for start-ups, offers better salaries than its other eastern European neighbors. And when it comes to visa and permit procedures, I will just say that a country that offers e-voting system cannot be that difficult when it comes to the simple visa process.
So, I applied for several positions via Jobbatical. Then I saw an expired job add on Jobbatical, but the company really attracted my interest. I researched it a bit more and then decided to send my CV to that company even though they had no active vacancy. To my surprise, they got back to me within the same week and expressed their desire to have an interview. After the interview process that took 3 weeks, I already had an offer that seemed worthwhile and we started relocation process. The company applied for a short-term work permit which was ready within a surprisingly short period of time. This was a one-page document that I took with me to the Estonian embassy in Georgia (as there is no Estonian embassy in Azerbaijan) and applied for a long-term visa. Within 1 week I received a multi-entry visa for 1 year. This was enough for me to move to Estonia and start working. The good thing is that your family member may apply for a visa and move with you. Then you can apply for residence permit in Estonia together. There is no need for them wait for your permit to be issued. My wife already had a Schengen visa, so we packed our stuff in 3 suitcases, quit our jobs and this is how our Estonian adventure started.
Now some useful information for future expats in Estonia. We found our apartment beforehand. There are a couple of web pages for rent. Most of the apartments are rented through a broker, which means you have to pay 1-month' rent to the broker. Otherwise, it is an easy process, you can contact the broker via email and receive and sign send the agreement via email as well. But we wanted to have a look at the apartment before signing, so we booked a place from Airbnb for 1 week and then moved to our rented apartment.
I immediately started working and applied for residence and work permit with the help of my employer. After my application, my wife also applied for a residence permit. She had to provide to immigration office a duly certified copy (it is a special certification called apostille) of our marriage document and a copy of my work agreement. What I'd advise to everyone moving abroad with their family is to make sure that they have translated and certified their marriage documents. This is the only requirement to receive the permit in time, even immigration office worker appreciated that we provided exactly what they require.
After 2 months on the same day we received an email that our permits were granted and after a week we received a follow-up email with information that we can get our ID cards. This card opens all the doors in Estonia as everything is tied to it. Your insurance, public transport card (which is free in Tallinn), bank account, mobile ID, even loyalty cards at stores. Once you receive the card you have to register your address at local municipality, which of course can be done online with your ID card.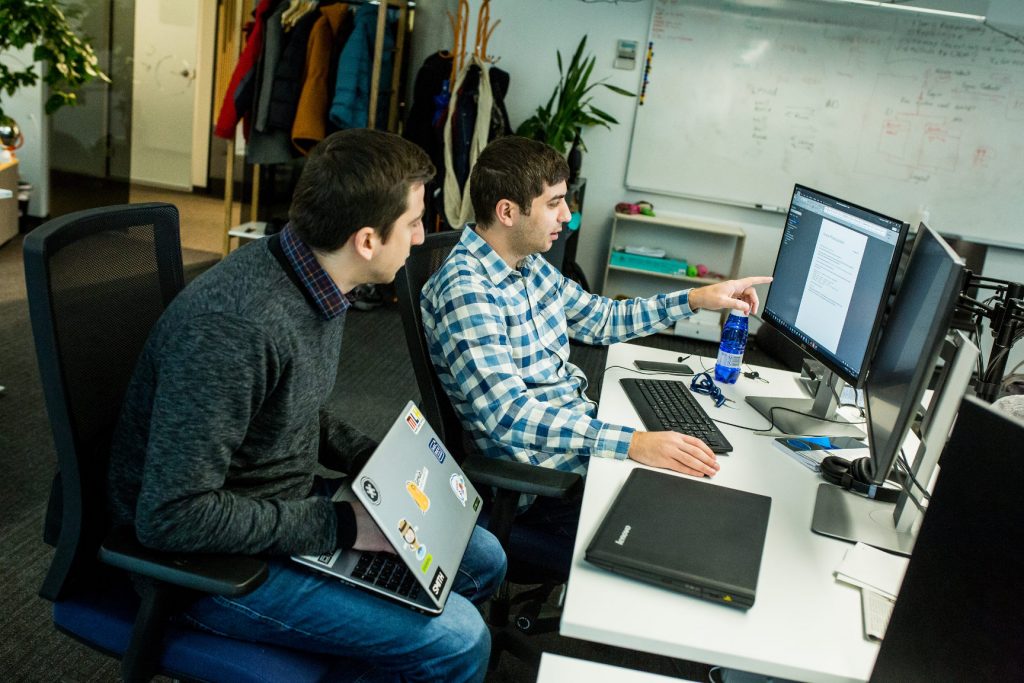 Once I started working I noticed that here employees are really appreciated by their companies and are taken good care of. In our company, we are offered many benefits and office even has sauna, showers, sleeping rooms and provides massage services, has daily fruits in the kitchen. Companies also pay a lot of attention to the capacity building. They invite students to the office and explain to them how the company works, gives them information about ongoing projects, hires a lot of freshly graduated students.
You get paid annual and sick leaves, parental leaves. If both parents work here, one of them is allowed to take a paid leave up to 18 months! Also, all pregnant women and kids get free medical insurance, irrespective of their employment status. So, it's not like US companies with no paid leave for parents. Estonia has small birth rate and the government tries to create perfect conditions to allow young generation to combine family and working life. As our baby is also on the way we feel like we already made our small contribution to the birth rate. 🙂
When it comes to Estonian culture, I was told that Estonians are cold and not social. Well, it's no Italy or Spain but I wouldn't say they are anti-social. I am coming from an eastern culture where people love to talk to each other on any matter and any time and of course it is very different from Estonia. But I also appreciate Estonian way of life where you have all the privacy and personal space you want but at the same time, you have many events and social platforms where you can meet and talk to people. What seemed interesting to me is that once you start talking to Estonians they are ready to share a lot with you and it goes well beyond just a small-talk. Also, Estonians themselves are very interested in having new experiences and open to changes. In my team, there are people who worked in South Africa, Nigeria, Canada and then returned to Estonia or people who changed their field of work at the height of the careers.
For people from eastern countries, the most challenging things are weather and food. Unfortunately, I cannot say that Estonian cuisine is very rich but there are many international restaurants that serve good food. To our surprise, we found there are many Azerbaijani restaurants and cafes in Tallinn. One of them that serves "shaurma" is especially famous with many spots all over Tallinn. The weather was a bit cold for us and more than that the length of the days was much shorter than what we were used to, but those were small inconveniences that we came over. You can always have a small vacation and travel to southern countries to catch some sun.
You'll also have almost no language problems here. Young generation speaks good English, so you can easily communicate at public places. If you speak Russian, it's also a bonus as older generation speaks some Russian and there is a big Russian population as well. I guess we were lucky in that department, we speak both English and Russian and started to learn Estonian.
In the end, I'd like to say that we are very happy with our decision and so far, love Estonia. I'd advise Estonia to anyone who is looking for a change and wants to try their chances in IT sector.
Work In Estonia official website