A data warehouse service running at a fraction of the earlier cost, with no vendor lock-in and faster and better business insights – read how our client Get Inspired achieved these gains with a cloud-based data warehouse solution built by Helmes.
Executive summary
Get Inspired is a leading Norwegian e-commerce company that has won the title of the best Norwegian E-shop on three occasions. As a fast-growing company, they faced a struggle familiar to many modern-day businesses. Despite having access to more data than ever, analytics was time-consuming and lacked crucial insights into its business performance.
Previously, the company used an off-the-shelf data warehouse system linked to their ERP, but it was not integrated with all data sources, including their CRM. As data was distributed between various systems, aggregating it was time-consuming and required much manual work. Some insights were missing entirely.
Helmes helped Get Inspired improve its business analytics by building a new data warehouse on the Google Cloud Platform.
The data warehouse aggregates data from all relevant systems for the e-commerce company: Facebook and Google Ads, Google Analytics, CRM and customer support software, accounting software, warehouse management system, and the e-commerce platform. The data is uploaded to the warehouse at intervals ranging from daily to nearly real-time.
The data is then visualized in Power BI, Google Sheets, or Google Data Studio. The automated solution simplifies reporting and analytics, leading to better and faster business decisions.
Switching to the cloud platform reduced the monthly data warehouse running costs 15X compared to the earlier plug-and-play solution. The solution can easily be migrated to another service provider or platform if necessary.
Meet the customer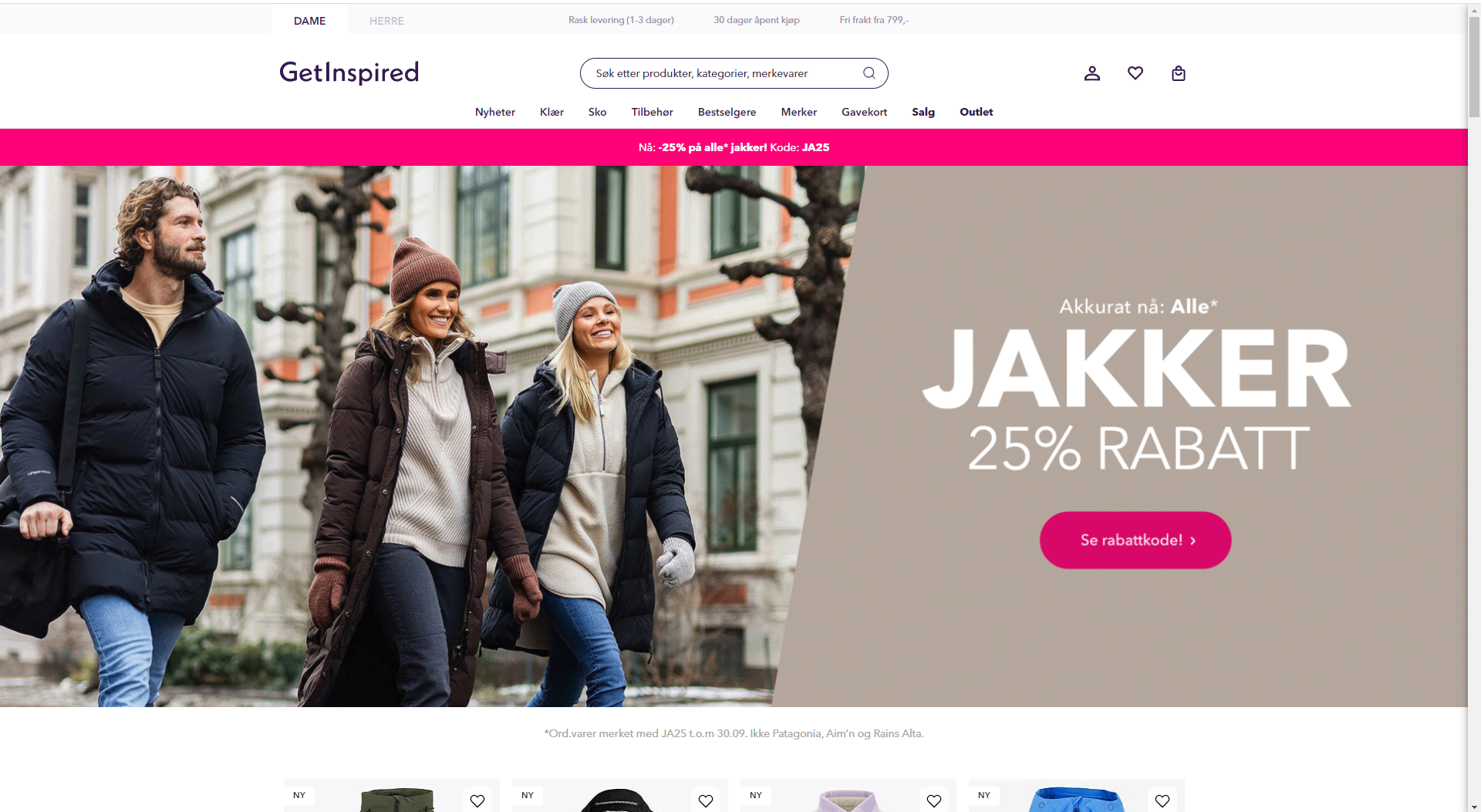 Get Inspired is a Norwegian e-commerce company focused on sportswear that won the Best Norwegian e-shop title in 2016, 2020, and 2021. The Trondheim-based young and dynamic team values innovative solutions and leverages technology to provide excellent customer service and grow their business at a remarkable pace, almost doubling the revenue between 2019 (23 million euros) and 2021 (46 million).
The team had collaborated with Helmes before on e-commerce solutions and was happy with the cooperation. So, when the company decided to up its game in business analytics by building a new data warehouse solution, it turned to us at Helmes because of our experience in different cloud-based data warehouse solutions.
The challenge
Get Inspired sought a better solution to replace its current data warehouse and analytics solution. The company had grown rapidly, and its data was distributed between ERP, CRM, Facebook, Google, and several other systems providers.
Their current off-the-shelf data warehouse solution was linked to their ERP but not integrated with all other data points, including CRM. As a result, the company could not connect customer data to reports for answering questions such as "Which category of products is most popular in Oslo?" or "Where do our top customers live?"
Moreover, the plug-and-play data warehouse was non-flexible, with reporting requiring a lot of manual work. It was also costly, coming with a high monthly license fee.
Spending large amounts of time juggling between reports in different systems and aggregating data in Excel sheets was not a sustainable long-term option for a fast-growing company. Thus, Get Inspired went looking for a solution to automate the process and give them additional insights by combining data from all relevant systems.
The solution
Process
The data warehouse options are many and varied, so our tasks included picking the right solution for Get Inspired and building it.
In the preliminary analysis phase, we compared various cloud-based platforms that could be used for the solution, considering the company's specific needs at the time and over the next few years. We looked at the current and estimated data volumes and how often data is queried from the warehouse.
Next, we compared the pros and cons of each platform and identified the best one for the company's needs – in Get Inspired's case, it turned out to be the Google Cloud Platform.
Then, we mapped all the systems to be integrated with the warehouse and prioritized the integration tasks.
Finally, we started the development, tackling it in an agile manner in weekly cycles; this means we developed the highest priority tasks each week while simultaneously analyzing the next steps, allowing the client to quickly get business value out of the solution.
Team and daily collaboration
Our joint team involved two members from the client's business development team whose role was instrumental in the analysis and prioritization phase. From Helmes' side, five colleagues were involved in the project:
a team lead,
a lead data engineer,
two data engineers,
and a Power BI specialist.
In the development phase, we held weekly team meetings to discuss the tasks in progress and map the next steps ahead. In addition, we had ad hoc one-on-one meetings when needed.
Our collaboration was fully remote. As a company, Helmes is accustomed to working with international clients and has developed efficient processes for working across borders.
The results
The data warehouse is built on the Google BigQuery platform and uses Google Dataproc for data processing.
The data warehouse solution is integrated with and automatically aggregates data from a variety of systems relevant to an e-commerce company. These include Facebook and Google Ads, Google Analytics, CRM and customer support software, accounting software, the warehouse management system, and the e-commerce platform. The data is uploaded on Google Cloud according to Get Inspired's needs, ranging from nearly real-time to daily.
The users can then visualize and analyze the aggregated data in Microsoft Power BI, Excel, or Google Sheets.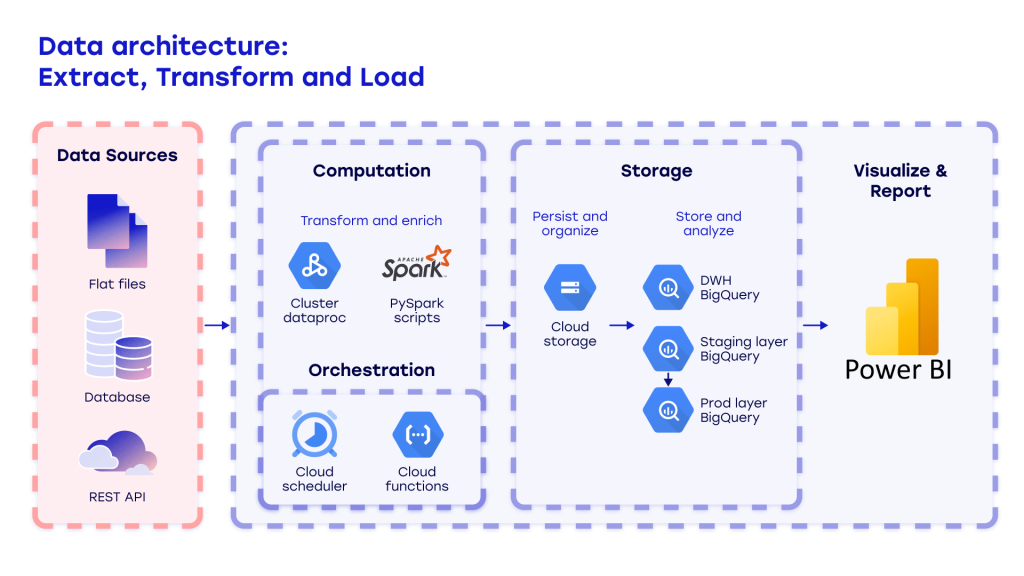 Benefits
Faster reporting and more nuanced analytics contribute to better business decisions. Among other benefits, the new data warehouse solution allows the Get Inspired team to:
Save 20 hours monthly that used to be spent on manually aggregating data from different systems
Get automated insights that were previously unavailable or too time-consuming to obtain
Make faster and better business decisions based on factual business data
A 15-fold savings on monthly data warehouse running costs compared to their earlier plug-and-play solution's fees
Have full ownership of the scripts with the possibility to easily migrate to another cloud platform or switch the development partner should it become necessary.
"We are delighted to partner with Helmes for our data analytics needs. Their seamless and hassle-free process ensures a smooth collaboration from start to finish. They took ownership of the entire process, delivering outstanding results. Working with Helmes has been a remarkable experience."
Work with us
We'd love to hear from you if you are looking for a data warehouse solution capable of integrating data from different systems and providing more accurate analytics. Our experience and expertise in data warehouse projects help us identify the best solution for your company's needs.
Helmes has been developing custom software for customers all over Europe for more than 30 years. Our clients include fast-growing startups, multinational companies in the telecom, fintech, logistics, healthcare, and other sectors and public institutions.
Our extensive international experience has equipped us with unique insights and methods for efficient collaboration across borders.
Check out our data services or drop us a line.
Get in touch