In retail, the barcode has been around for decades; that's how goods are handled all the way through the logistics chain to the customer. Telecommunications company Telia and Helmes wanted to shake up that model.
Telia Finland opened its flagship store in the Mall of Tripla, now the largest mall in the Nordic area. It was designed to be the biggest and the most modern retail location to show off to their customers and investors what they can do. But they wanted a whole new concept for the store that would change the way people shop.
Helmes partnered with Telia on their cash register system in the past, and we met with them and brainstormed how to make a new self-checkout system that would be a novel experience for their customers.
How do you change self-checkout in retail?
By making it even faster and more comfortable, a seamless experience that defies the customers' expectations. Helmes and Telia teamed up with a Finnish company Turck Vilant Systems to develop our new concept. We said goodbye to barcodes and beeping noises and said hello to RFID (radio-frequency identification) stickers.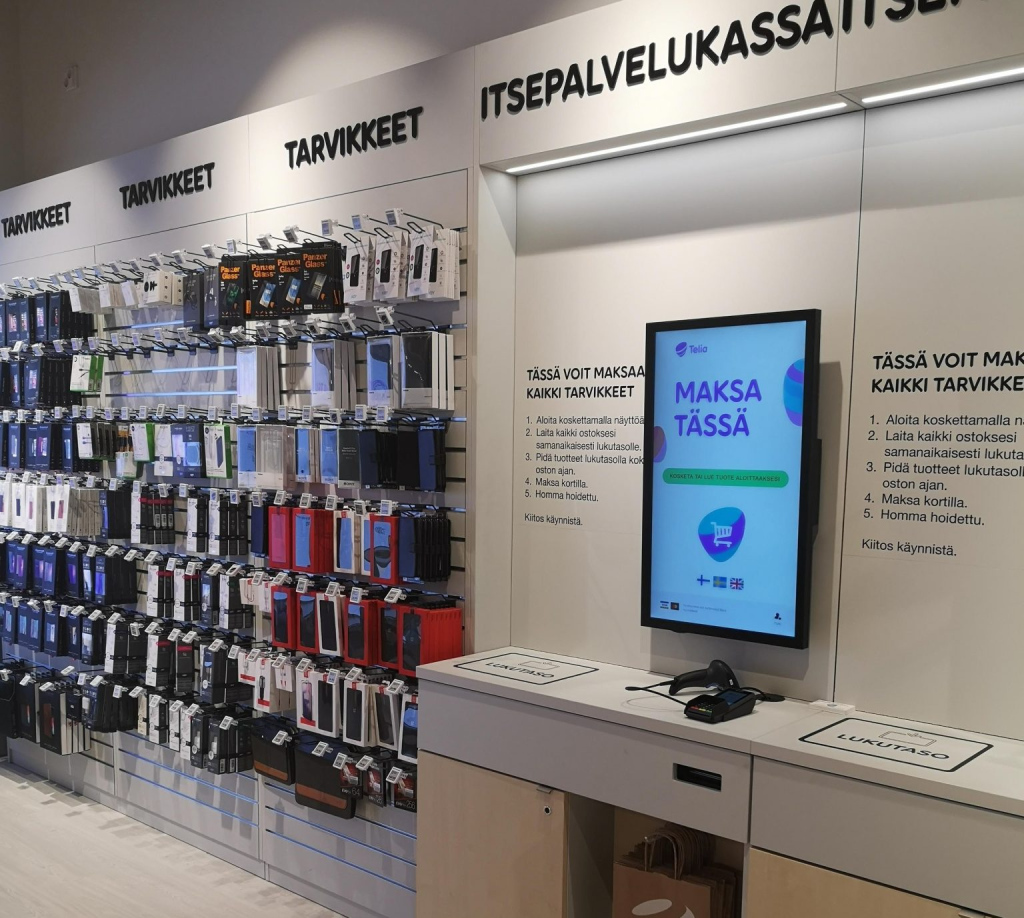 How Does the Self-Service Checkout System Work?
RFID stickers are attached to goods just like barcodes on products. For the stickers to work, there needs to be a mapping between barcodes and RFID tags. There also needs to be a place in the supply chain for the tags to be put on the products.
There are cupboards in Telia's self-service checkouts with RFID readers inside.
No one notices them, it just seems like a nice piece of furniture with a self-service screen on top of it.
The clever part is that you can put as many items as you want on the surface of the cupboard and your goods have already appeared on the screen – there's no beeping noise. The reader has already figured out what you have on the surface of the cupboard. And it doesn't matter how you put them there – even when you have a pile of goods on top of each other, it still reads them all.
Once the goods are on the cupboard, they are automatically registered, and you pay and leave.
What are the benefits?
Let's take Telia, for example. They sell mobile phones, computers, and various other gadgets. Basically, two types of customers walk into their stores.
The first type needs more attention with new contracts, signing of documents and changing of packets. It takes time and a customer service representative doesn't want to hurry things. Everything needs to be done with care.
The other type of customer just wants to buy something – a pair of headphones and a charger for example. This person doesn't need to sign anything, and they must wait in line. They might decide to go to another shop because of waiting. Now, with the new self-checkout software, they can do the purchase within 20 seconds, depending on how fast they pay with their bank card.
Your customer is happier, and you sell more. And the RFID is surely going to bring in people that are amazed at how the whole process works – how does the screen know what I want to buy? The grand opening in the Mall of Tripla showed exactly that – people were trying to find the scanner and they did not understand how the product name with the price appeared on the screen without them doing anything.
Security-wise, there is no difference between the different solutions; whether it is a barcode or RFID sticker, the logic is the same.
A New Era Begins
On the 16th of October, the new fast customer service solution was shown for the first time, and since then it has been used two to three times more frequently than the regular checkout scheme. Even Telia's customer service representatives tend to lead customers to do their transactions there – it's just much easier and quicker. Telia already uses its new development in a store in Espoo as well, and they are planning to install it in all new stores in Finland in the future.
The RFID method can be used in all retail stores, whatever is being sold. There just needs to be a RFID sticker on the product, just like barcodes today. There also needs to be a reader installed. An interface with the stores' cash-registry system is also a must and a screen for the customers.
A new era for self-service purchasing has begun.
The solution is technically versatile and packed with interesting features. We believe it is only the start of Point of Sale innovations. If you are interested in its fascinating technical functions and possibilities, let us know. We are more than happy to share solution highlights with you. Let's have a Skype call!
Get in touch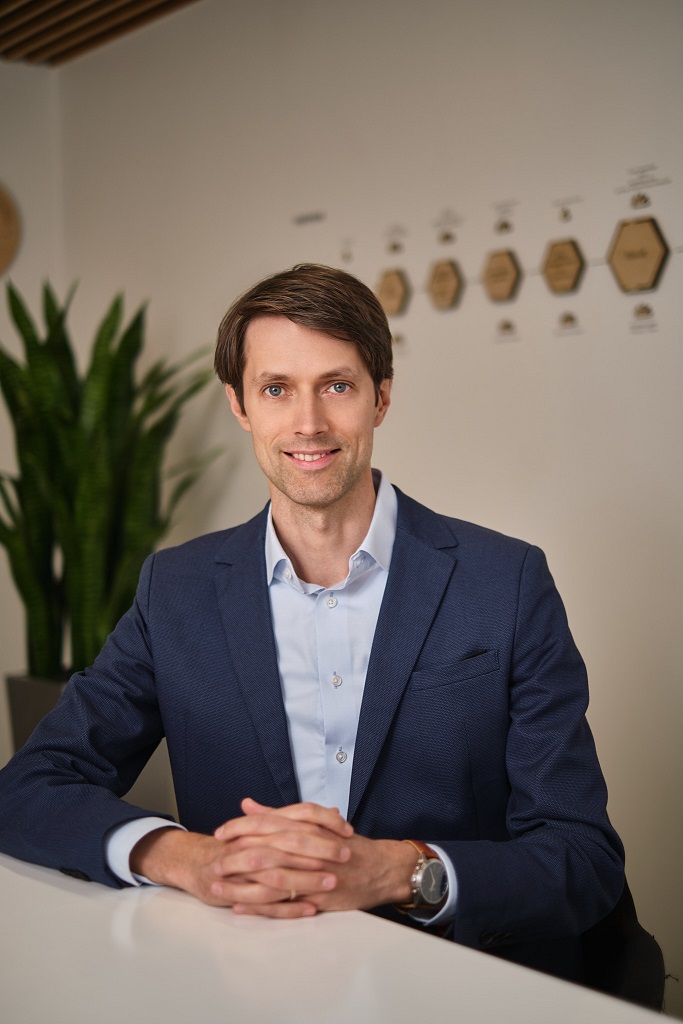 Get in touch
We have years of experience in building innovative retail solutions. Let me know if you have a software challenge to solve! We can help.
Deniss Ojastu
Partner
deniss.ojastu@helmes.com
+372 58 35 9582