Hack Day has become a special tradition at Helmes, where personnel get to indulge in a little bit of information sharing, brainstorming, and learning between peers from different development teams, and hopefully improving "let's do it" attitude in the company along the way.
"The initial idea of Hack Day was to bring people out of their daily routine," said Raul Ennus, Head of Development at Helmes. "Some companies go walking in the forest, or drink beer together.
"We want to do something that is useful, something that would enlarge our employees' knowledge. We are probing into some very new, innovative technology. How can we use it on our planned projects? This is the idea."
Early versions of the Helmes Hack Day were based on a similar format used by Garage48, Estonia's start-up incubator group, where interested people get together to collaborate on an idea, and sometimes work through the night to complete a prototype design.
Helmes' Hack Days have evolved over time
Now the focus is more on increasing the motivation and creativity of developers by exposing them to topics and projects outside of their normal assignments.
Hack Days in the Tallinn headquarters, which take place in January and June, have been running longer than in Minsk, which had another Hack Day in March. Oliver Stimmer, the Internal Systems Development Manager in Tallinn, travelled to Belarus to pitch in and help make sure the event runs smoothly.
"The Hack Days for Minsk are newer – I think this is the third time," Stimmer said. "The first one was rough, the second one went well."
"It's a process that we are going through, building a level of maturity, and a high-level of understanding of what the culture of a hack day really is, why it's important, what it's supposed to do, and what we can do here," he said.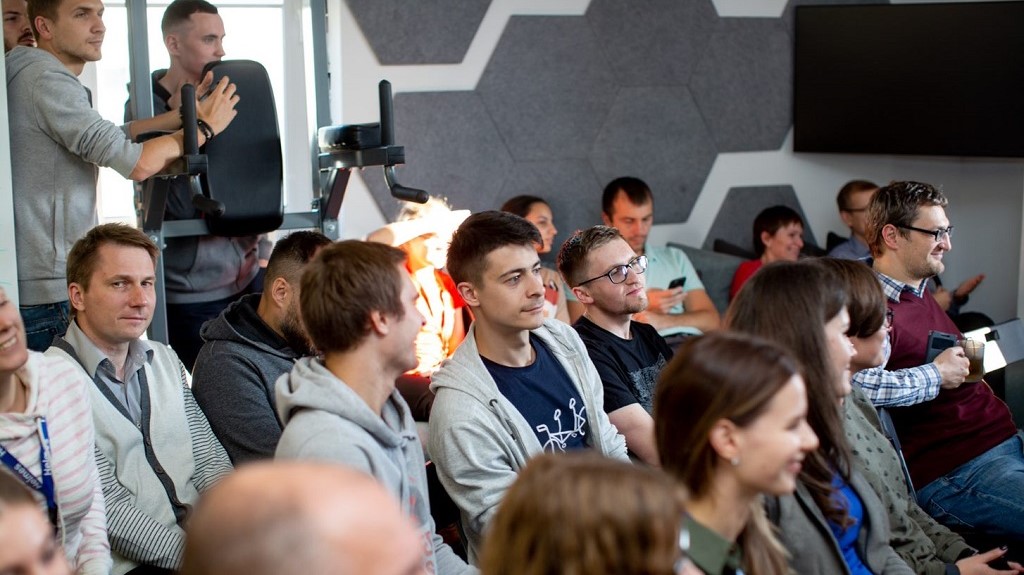 Helmes' Hack Days revolve around topics submitted by organizing teams several weeks before the date. However, two topics – robotics, and the so-called "Internet of Things", which were also themes in June's Hack Day in the Tallinn headquarters – will be part of the lineup in Minsk.
Group leaders determine the goals and activity plan for the day, and then the group will demonstrate the results in the evening session.
In June, the Tallinn hack event tested a global startup's air quality sensors that were provided for the event and attempted to integrating them into a sensor package that worked with Helmes' systems, Ennus said.
"We were trying to measure the air quality of different rooms; temperature, humidity, and carbon dioxide – if it is too high, you know you have a ventilation problem, probably because of too many people in the room," he said.
Another hack involved a client who wanted to work on "smart clothes" that could track children using a non-GPS based system.
The June session also had a robotics competition, were teams had four hours to program a Lego-based robot.
"Everybody has the same goal, the same exercise, so the competition will be whose robot does the job better," Ennus said.
The success story of a previous Hack Day
You can find one of the success stories of a previous Hack Day in a commons space in the Helmes Tallinn building in the form of a flat-panel screen with a camera lens fixed above it. It's a face-recognition based library solution, and it's a point of pride for Helmes employees at what one can accomplish during a day session.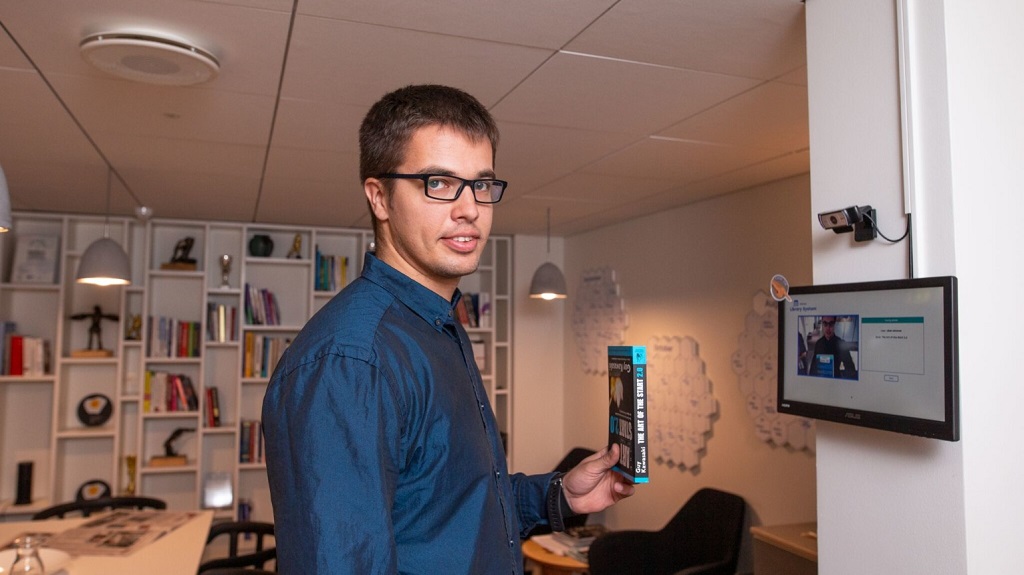 "If you want to borrow a book from our small Helmes book collection, you show your face and book to the camera, and … ta da!" Ennus said. "You have checked it out.
"Of course the first version of it was ugly. We have ideas about how we can use this tech, but we haven't had time to do it yet."
Hack Day for Helmes personnel revolves around self-directed success, Stimmer said.
"It's important that people are eager participants – it has to come from them, that they wish to do something cool and learn, not that you are good at taking instructions," he said. "At every Hack Day, there is room from growth, because you have turnover of personnel, and you are trying something new."
Olga Koledina, a Helmes systems analyst, took part in her third Hack Day in Minsk, and said the change in routine is welcome.
"What I like most about it is the opportunity to collaborate with people from other teams, and to try to learn something new and different from your daily work," she said. "It's also great that it's arranged as a competition, because that raises the enthusiasm."
Stimmer said the Hack Day in Minsk might have a delayed payoff in terms of clients' current needs, but they expand the horizon of what is possible.
"Helmes is a custom software development service company," he said. For me, (Hack Day) allows us to not only learn new technology, but to learn how that technology can serve the needs of the clients.
"For example, we can learn some good machine learning solutions, and test them. Maybe they haven't ordered them yet, but they can order these things from us. We can tell them, 'We can do these much cooler things that you haven't imagined yet'.
"That's the ideal outcome."